Idiots at the End of the Earth Ep. 9 Museo Violeta Parra and Santiago Central Market

Serendipity is a lovely word... and an essential part of Idiot travel. If one travels with insufficient planning and insufficient understanding of one's surroundings, it means one will experience the unexpected. If those unexpected developments lead to positive results, that is serendipity.

So... it was purely chance that the Idiots rented an apartment that was one street over from Museo Violeta Parra. And it was serendipity that they found themselves with a spare hour and wandered in – and discovered a quite amazing woman.

Violeta was born in 1917 into a musical family living in humble circumstances. The Great Depression created hardship around the world and Parra and her siblings went to work at early ages. She eventually was able to get an education and developed a specialty in collecting and performing Chilean and Argentinian folk music. She married a political activist, a Communist, and her music took on the same role in South America that similar activists like Woody Guthrie and Pete Seeger and The Weavers did in the US – using song to inspire people to populist action.

She became friends with Pablo Neruda and his circle. She recorded albums for RCA and EMI. She hosted an immensely popular radio program. She wrote a seminal book collecting and preserving Chilean folk music as well as an autobiography.

Like so many artists, her talents were not limited to one medium. She developed an interest in ceramics, painting, and arpillera – a kind of embroidery on burlap. A bout of hepatitis at age 42 kept her bedridden for a period of time... and the silver lining was that she greatly developed her painting and arpilerista skills, leading to her first artist exhibitions. In the following years she traveled the world, displaying her art and performing music. She was the first Latin-American artist to have a solo exhibition at the Louvre.

As with so many artists, her passion and striving led to great success – and suicide in 1967.

Parra's legacy was carried forth by her family and friends and by the Violeta Parra Museum Foundation. The museum is an impressive facility that houses some of her works and serves as a facility for training and encouraging the arts. It is free for Chilean citizens. A few shots of the exterior and Parra's works...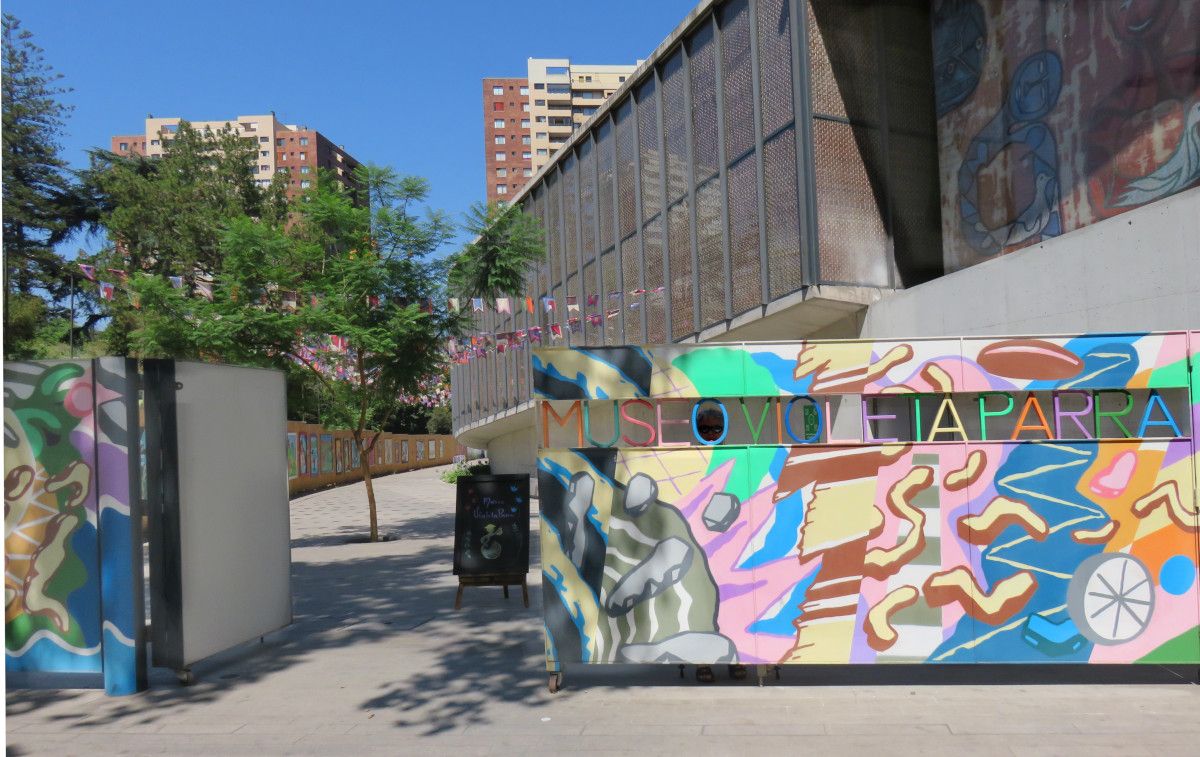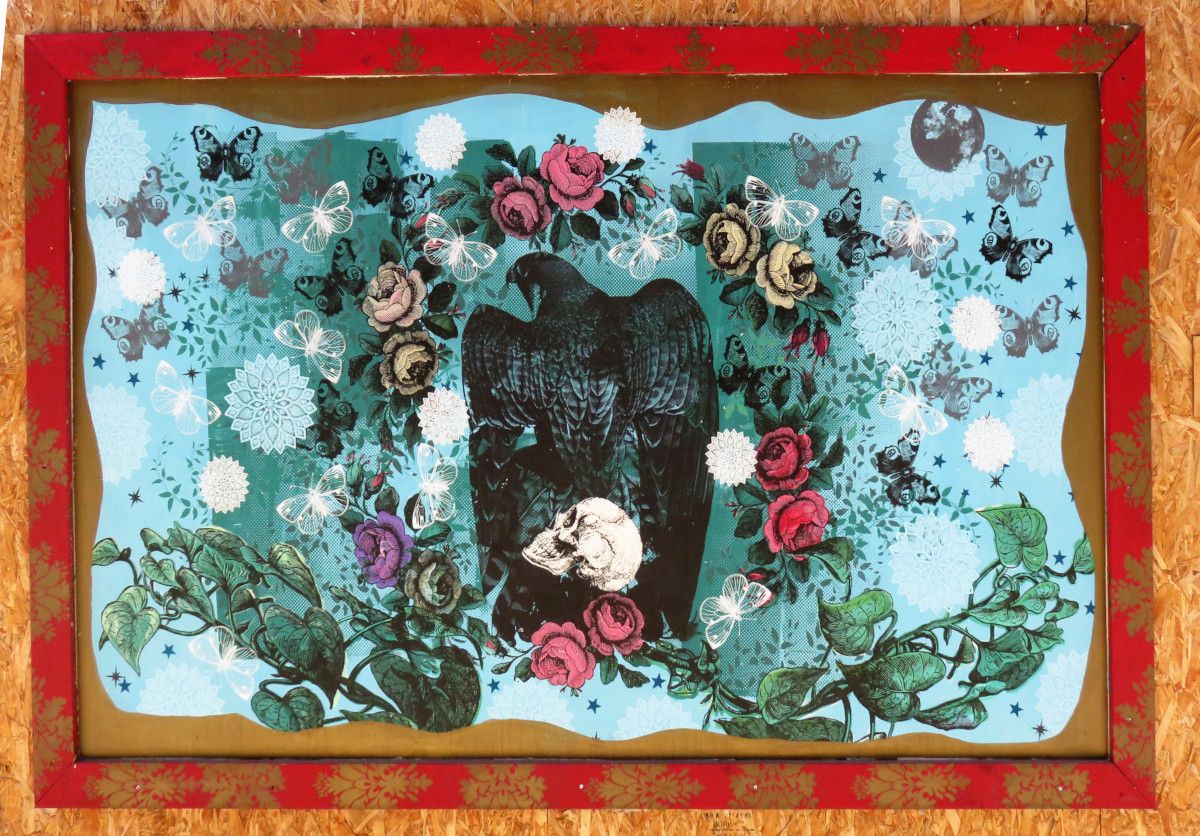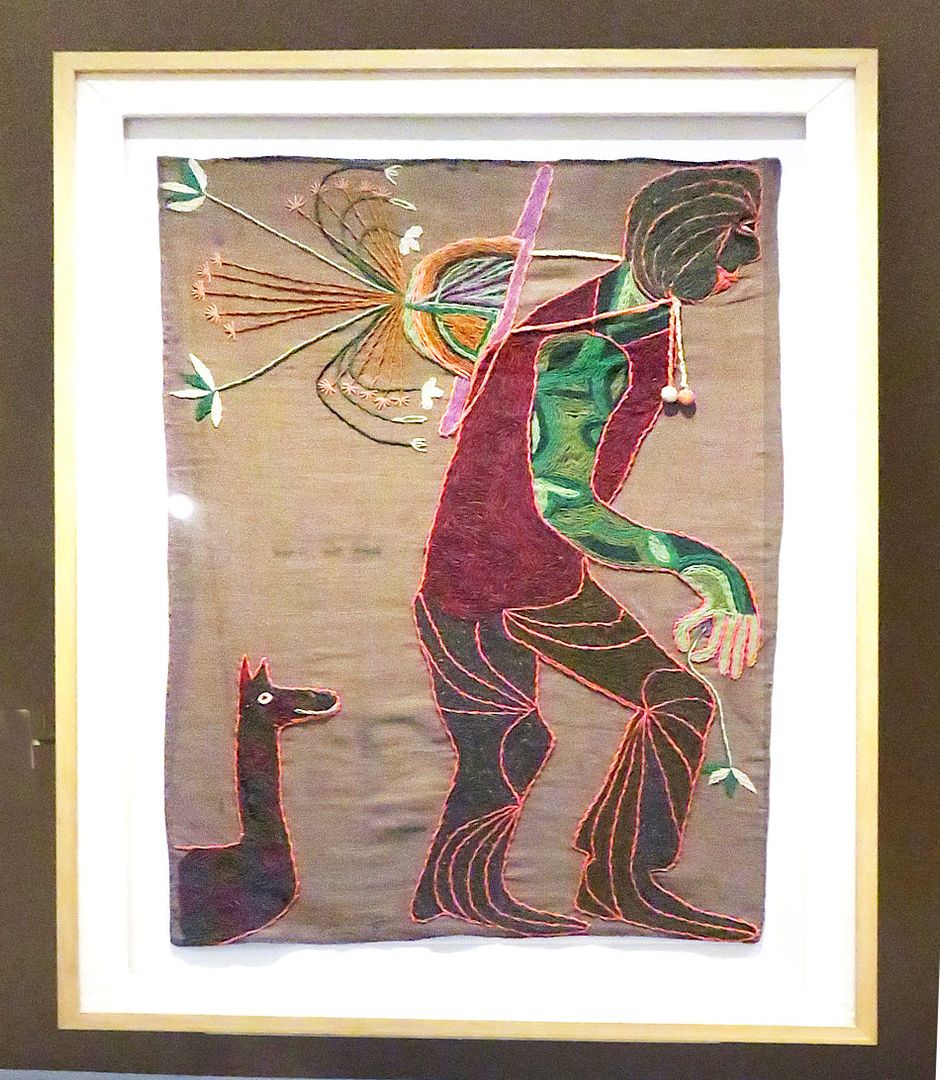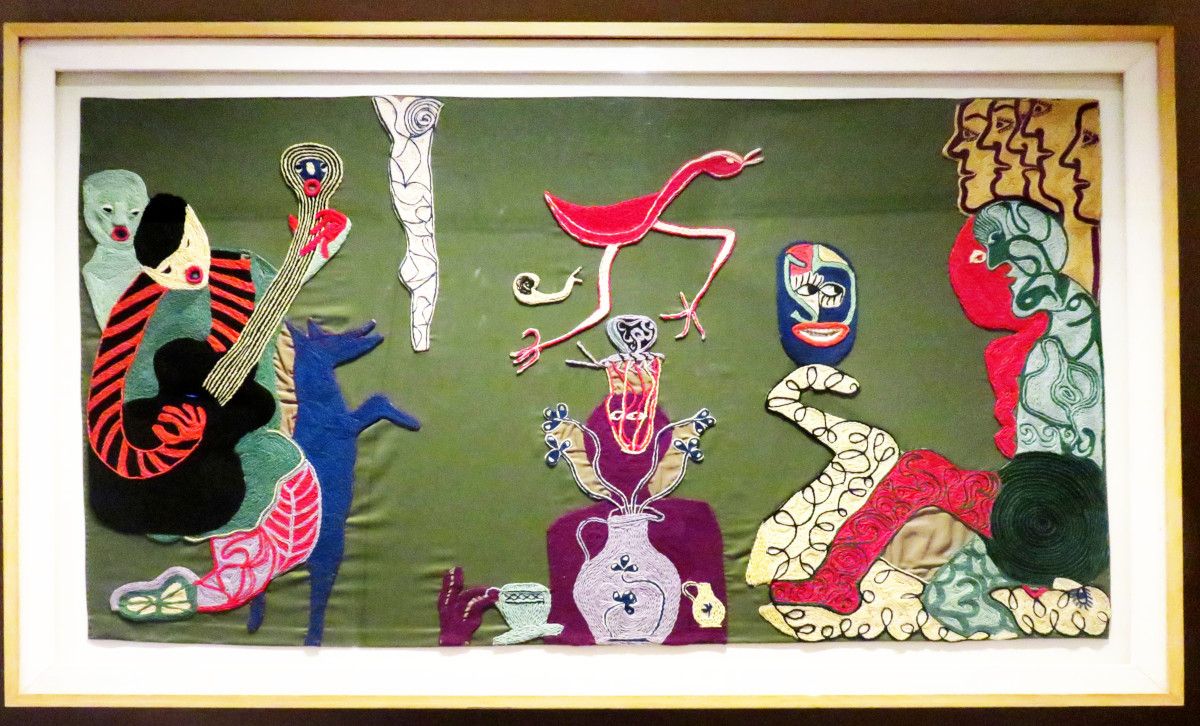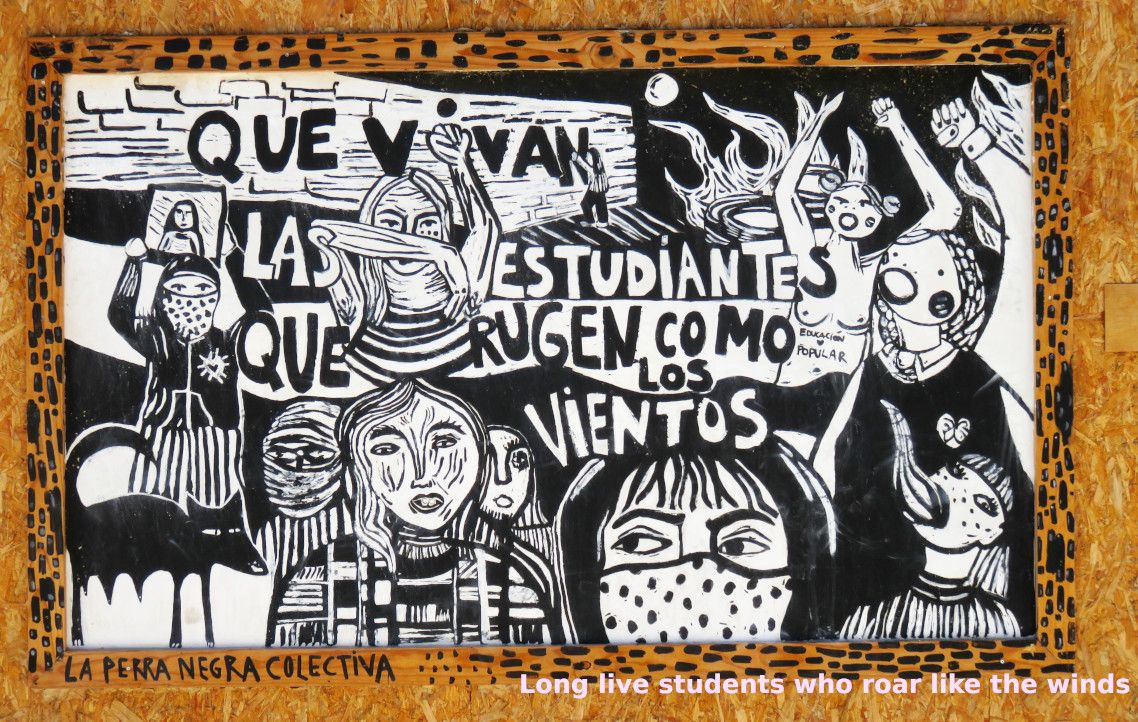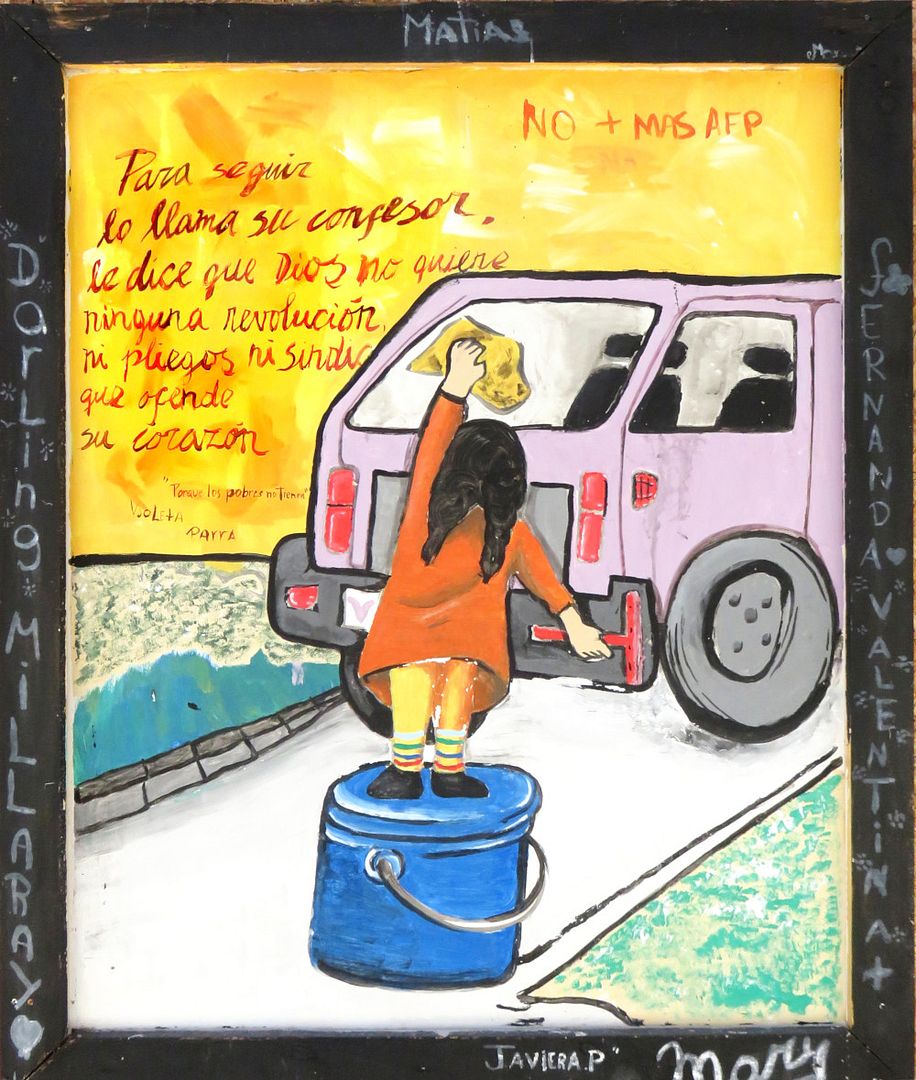 For those who would like to know more about Violeta Parra... A 2011 award-winning biopic, Violeta Went to Heaven, is available on Amazon Prime. And here are two links – the first to VP performing her most famous song, Gracias a la Vida - "Thanks to Life" that features pictures of the artist and her life. This song has been covered by many artists, including Joan Baez and the incomparable Mercedes Sosa. The second link is to a modern rendition by Sosa. If you view this and it doesn't bring a tear to your eye, please see a cardiologist... your heart may have gone missing!

https://www.youtube.com/watch?v=w67-hlaUSIs

https://www.youtube.com/watch?v=WyOJ-A5iv5I



Wonder of wonders – an Idiot He selfie (in the O of Violeta) where you can actually see him!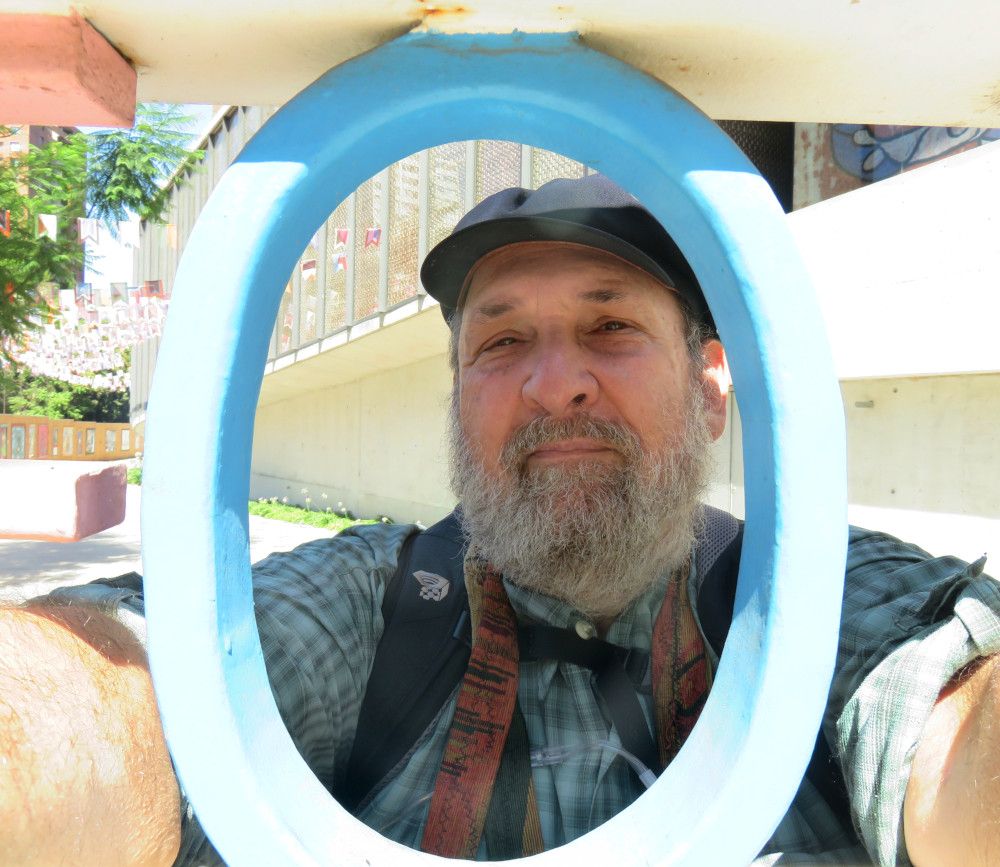 - - - - - - - - - - - - - - - - - - - - - - - - - - - - - - - - - - - - - - - - - - - - - - - - - - - - - - -


Chile is every elementary school Geography student's favorite country. The "shoestring country" is so easy to label on a blank map! It is 2650 miles long – and only averages 110 miles wide. More importantly – it has an amazing 4000 miles of coastline on the Pacific. There is little farmable land, but cold currents along this coastline create a rich fishery with more than 100 edible species. Chile is seafood heaven!

About 150 years ago, a fire destroyed a plaza in Santiago and the tragedy had a silver lining – the city constructed Mercado Central... a market specializing in seafood. It's a classic 19th century market... the interior is an intricate pattern of exposed steel, with arched ceiling, domes, and a tower. Today there are fewer merchants and much of the space has been taken over by restaurants serving local and tourists the seafood they see being sold all around them.

The Idiots were taken advantage of by a taxi driver. He skipped Mercado Central and tried to take them to smaller market and restaurant far into a rundown neighborhood. The Idiots refused to get out of the taxi and insisted he take them to Mercado Central. He pretended he hadn't understood them. When they arrived at the market, Idiot He asked how much and the driver pointed to the meter. Idiot She harrumphed and got out of the taxi. Idiot He started to do the same... and rather than be stiffed for the whole fair, the driver dropped it to less than half. They still paid a couple of bucks too much – but they got to see some interesting neighborhoods and they probably would have tipped that much anyway. The Idiots only report this story to avoid presenting a false impression that everything in their travels goes well. There are challenges - they just are pretty good at making lemonade from lemons.

Their objective was to get a look at Mercado Central – and to have a great seafood meal. They were successful beyond their expectations. Everywhere one looks there are fish being cleaned and shellfish being shucked and the seafood on offer in overwhelming variety.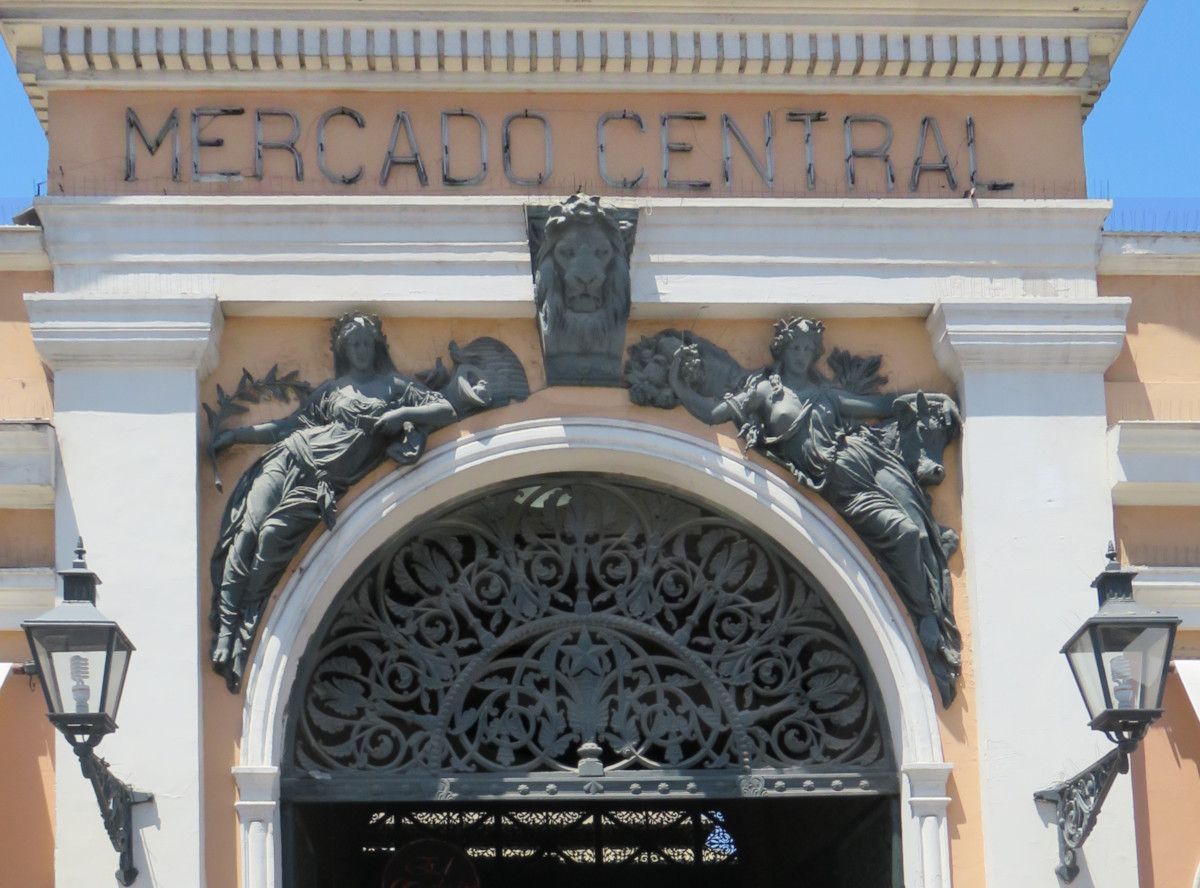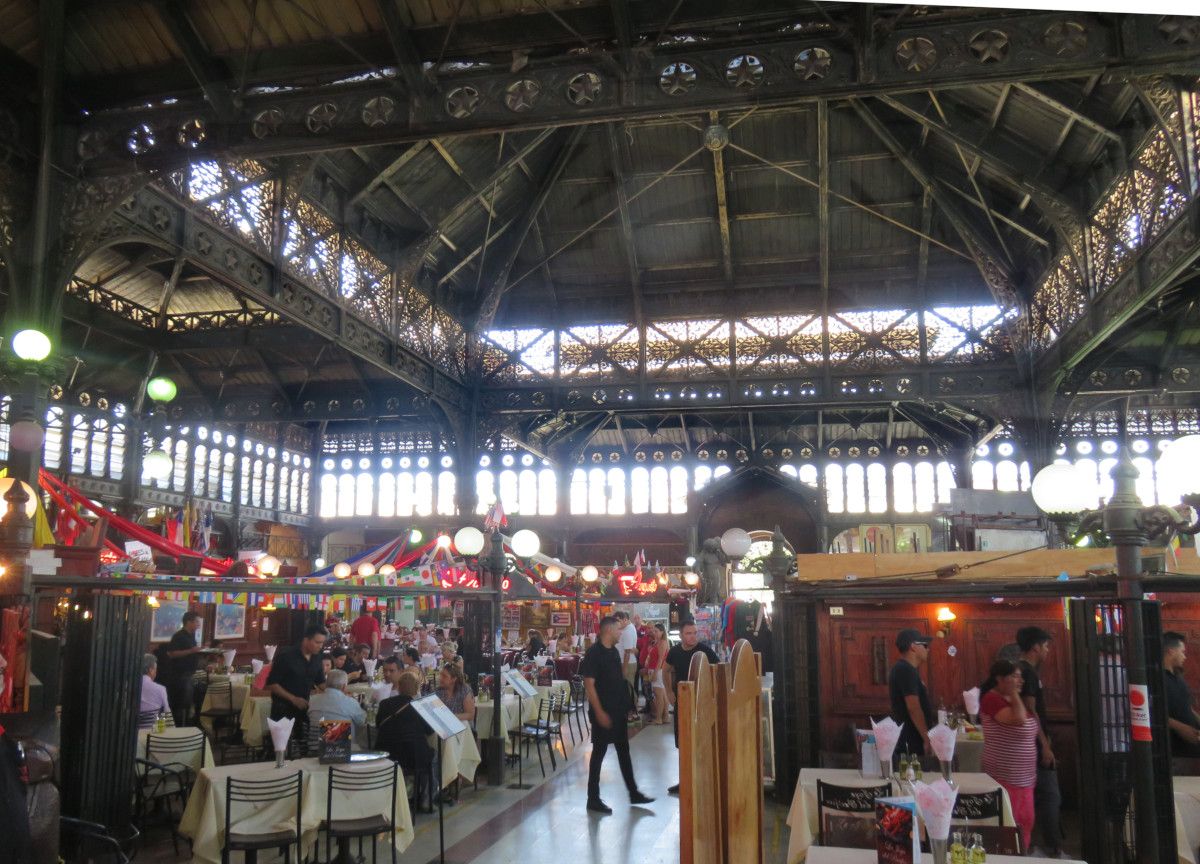 The night before, Idiot She had a large Reineta fillet. They knew that translates to Queensfish. Idiot He questioned her choice out of concern that it might have Freddie Mercury contamination. Yes, poor Idiot She has to put up with being the sole victim of his word play when they travel! At the market they learned the appearance of the queenfish is anything but regal!







Until that time, the Idiots had never tried sea urchin. Actually – they still haven't. Seeing the urchins displayed did nothing to whet their appetite for a new experience.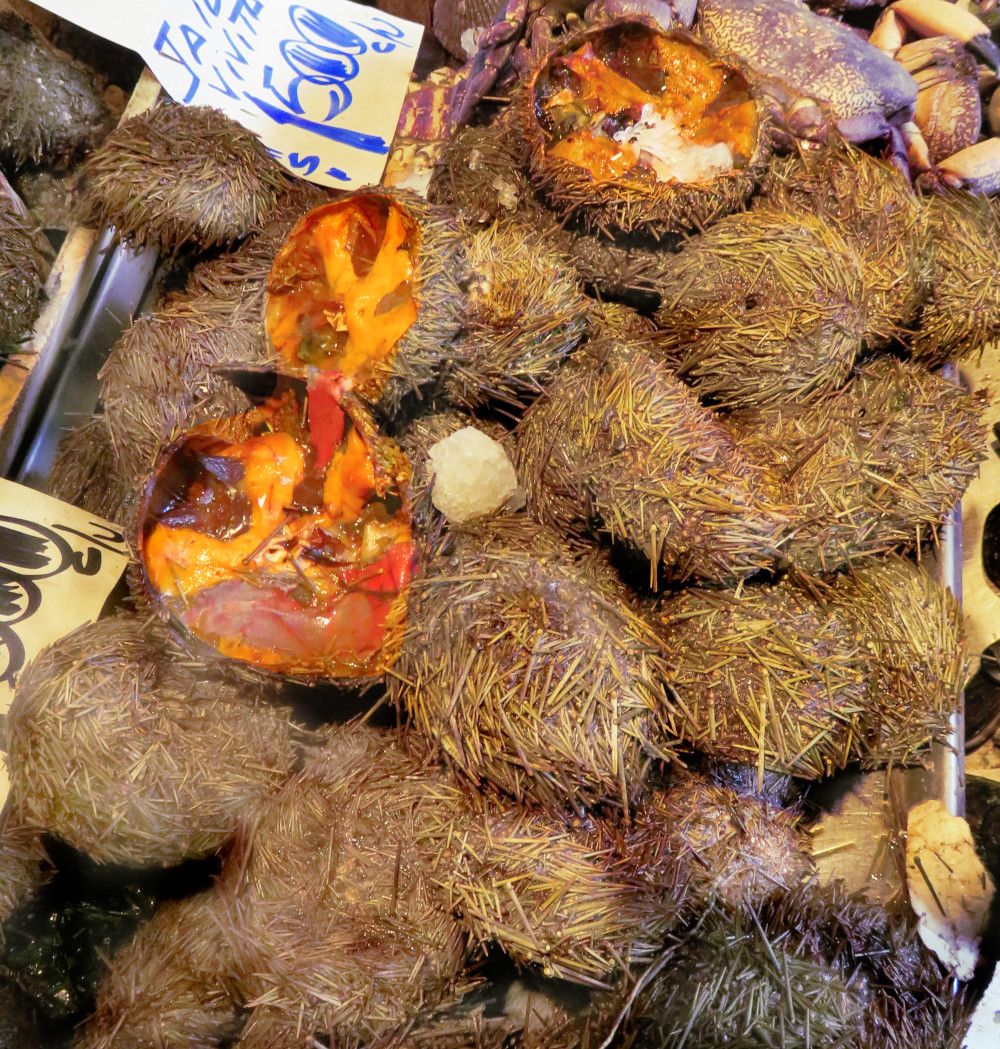 The Idiots avoided the large open restaurants in the large center space of the market – lots of tourist groups and very aggressive touts. They wandered until they found Tio Lucho, a small restaurant along a narrow walkway, a hive of activity, crowded with fish stands,coolers, bustling workers, water on the floor and shoppers bargaining for the freshest seafood, often watching the fish being cleaned and cut up to their specifications.

They took a table outside the little restaurant – actually in the walkway of the market. While they waited for their food, they had great people watching as a river of shoppers and tourists flowed by. They watched a dad buying fish for what, from the quantities he purchased, must be a large family. He was also teaching his daughter how to pick fresh fish, though she seemed more fascinated with poking the live almejas and watching them clam up.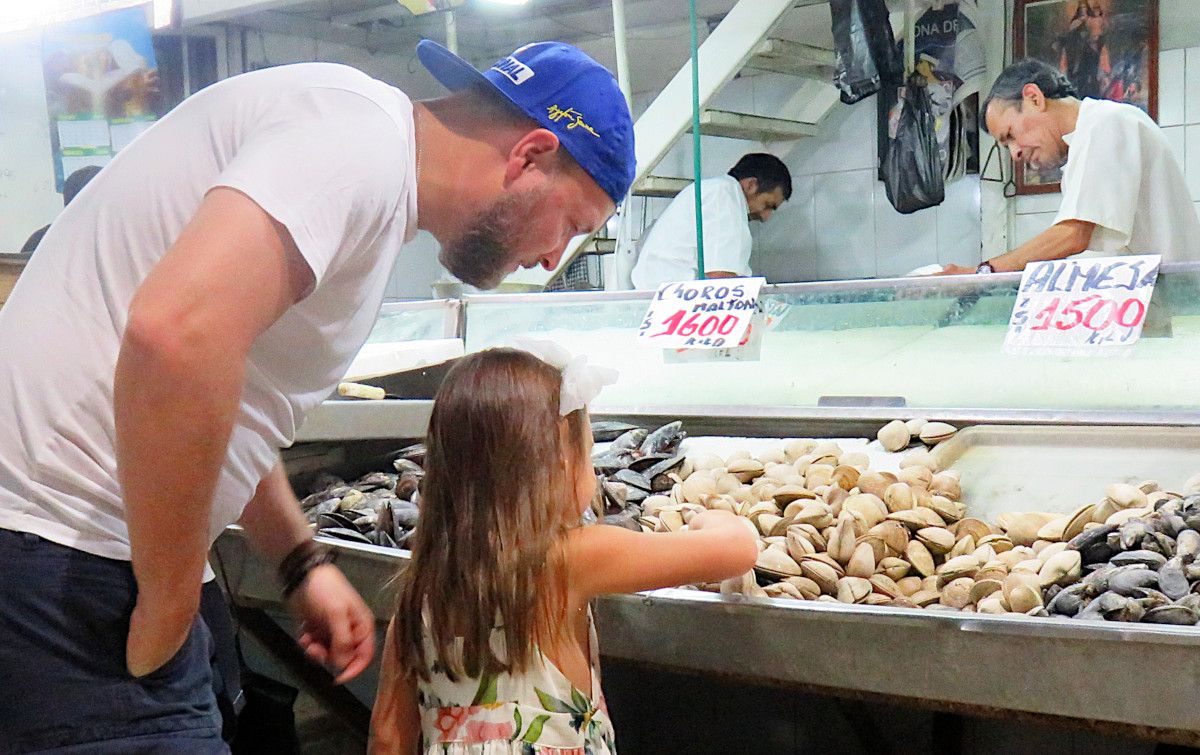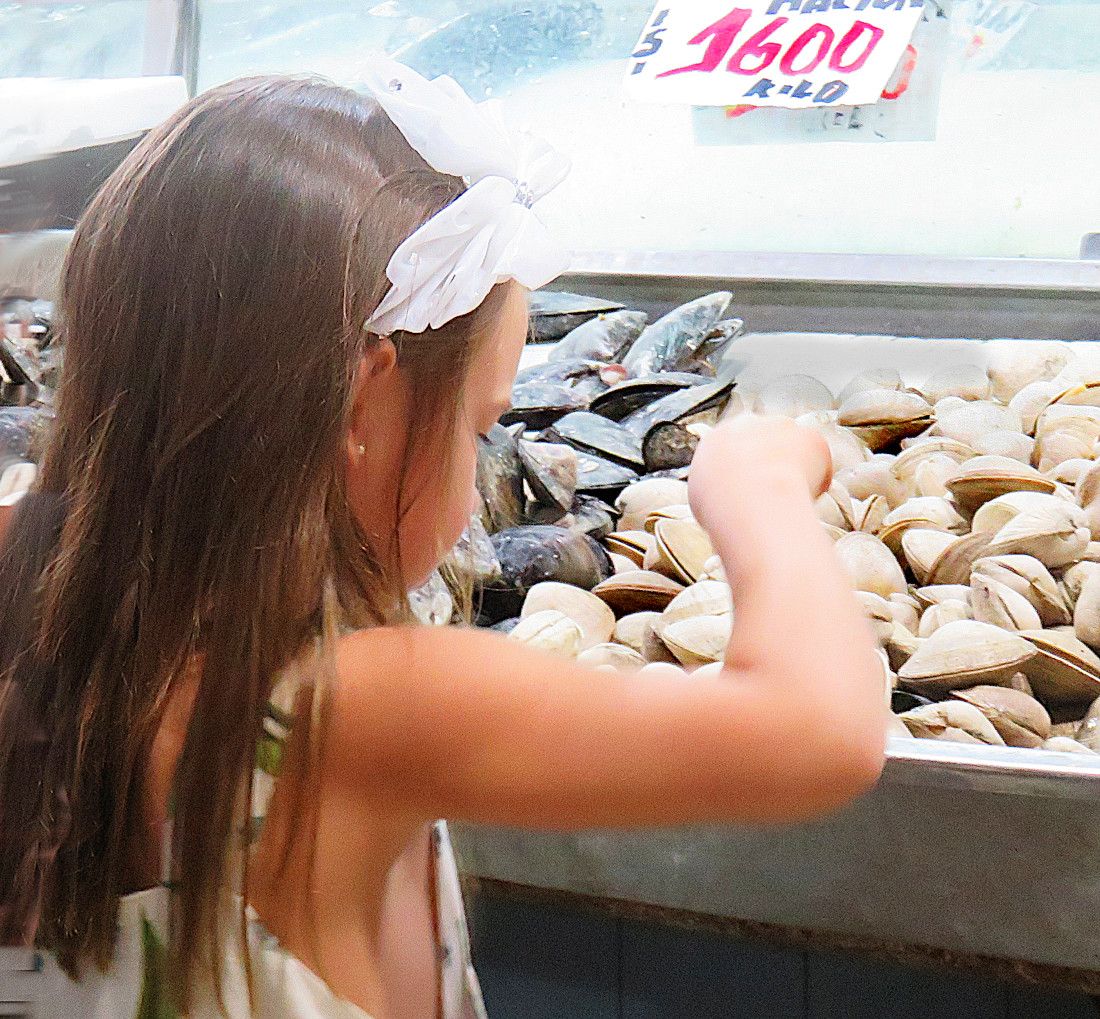 And the food! First came a complimentary appetizer – delicious hot deep fried crusty things with sauces. Appetizers can be important in Chile - service in Chile is often "relaxed" and it can take considerable time before entrees are delivered. In this case, it was well worth the wait.

Empanadas are a staple of South American food, and seafood empanadas are on most Chilean and Argentine menus. They are often small... apetizer sized... and baked. At Tio Lucho, the empanadas are huge and deep friend. Idiot He doesn't actually like seafood very much – but he consumed half of this one before remembering to get out his camera.

Chupe de Jaiba is a classic Chilean dish. The dish loses a little glamor in translation – literally "crab suck." It seems that every restaurant and every family has their own take on this recipe, but it is basically a crab casserole, usually served in a crock or stoneware. The spices vary and it may have bread crumbs... but it will always have cream and cheese and white wine – and if properly done, a hefty amount of succulent crab.

There was no possible way for two people to consume this much rich food. The Idiots finished every morsel.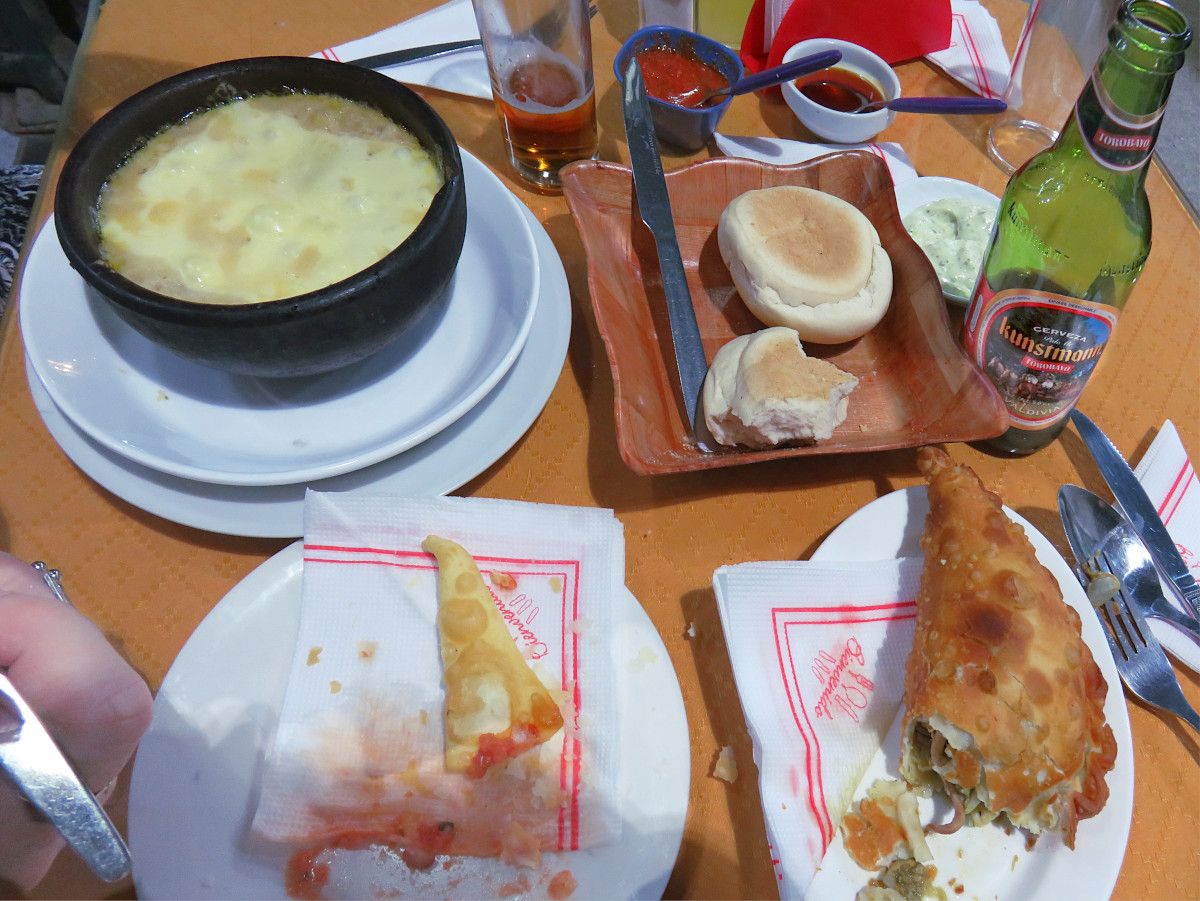 The Idiots had intended more exploring – but as they emerged into the 100 degree Santiago afternoon in food-induced comas, they decided it was time to just head home. After their bad experience earlier, they were not about to get ripped off on their taxi ride back to their apartment. They made sure the driver knew that they knew exactly how to get there and would not tolerate any diversion. They then settled in and were surprised at the the taxi's air-conditioned comfort. They were halfway when they realized there was no meter up on the visor as in other taxis.

Arriving at their apartment, the driver pointed to a meter located down on the center console – and a price tag approximately 9 times the regular taxi fare. It seems they had gotten some kind of "special" conveyance. They were simply too hazy and happy to argue and chalked the huge bill up to experience.

Arriving "home" was always reassuring to the Idiots. Idiot She has a totem – the spiral. It is a symbol found round the world and has special resonance for her. She even incorporated it into her ankle tattoo.






So they knew they'd found the right lodging in Santiago when they first arrived and found a welcoming message in the security gate.