Idiots at the End of the Earth Ep 11 Hanging around in Punta Arenas

It is a sign of how remote Punta Arenas is that one of the top tourist attractions is – the cemetery!

Punta Arenas is a small windswept city on the Straits of Magellan. It's the regional capital of Chile' Magallanes province and, at about 130,000 people, it is the largest and most visited city in far-southern Chile. Architecture tends to be low and designed to handle almost constant winds, cool summers, and winters that are never really very cold – but always cold and damp.

There are three primary reasons for PA to exist – it is home to a fishing fleet, it is home to a navy base, and it was the center of a movement in the 19th century to turn Patagonia into a vast sea of sheep. There was some gold mining in Patagonia, but the big money was in "white gold" - wool.

Sara Braun came to Patagonia from Russia in 1884 and in 1887 married a very wealthy Portuguese businessman, Jose Nogeria. Together they controlled an immense sheep enterprise – eventually 2.5 million acres! When Jose died from TB just 8 years later, his beautiful widow became the grand dame of PA, ruling a financial empire and completing an elegant mansion in PA. Her brother married the daughter and heir of another sheep magnate, Jose Menendez, thus cementing the three wealthiest families in Patagonia into virtual royalty.

Sara Braun donated the land for the cemetery and today it bears her name. The trees have been carefully sculpted for more than a century and wealthy families and civic organizations have competed to create monuments that both memorialize their dead and show off their wealth and influence. Tourists and locals alike use the cemetery like a public park, walking the peaceful path among the monuments and gardens.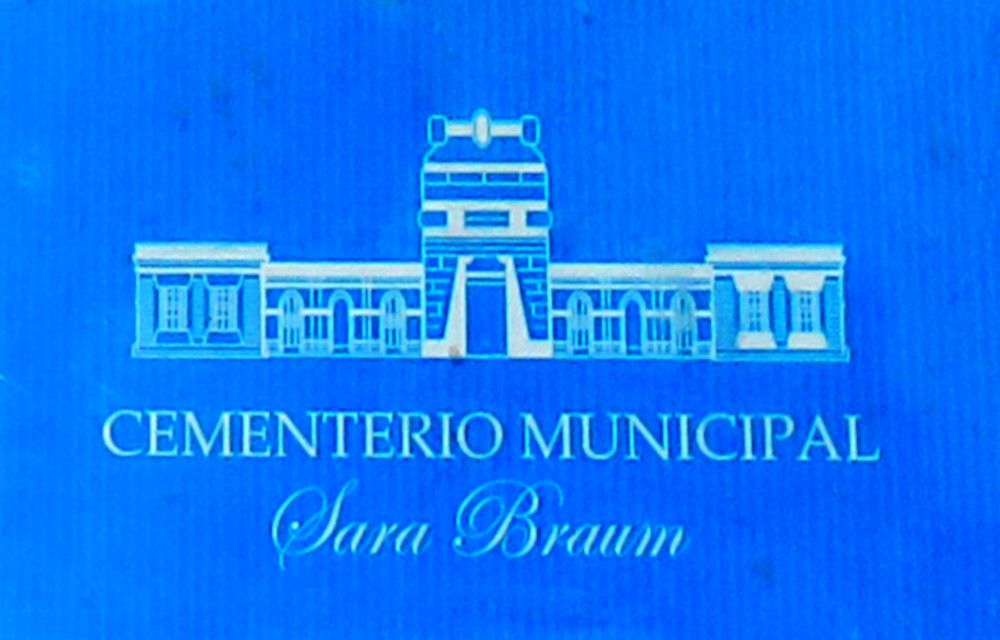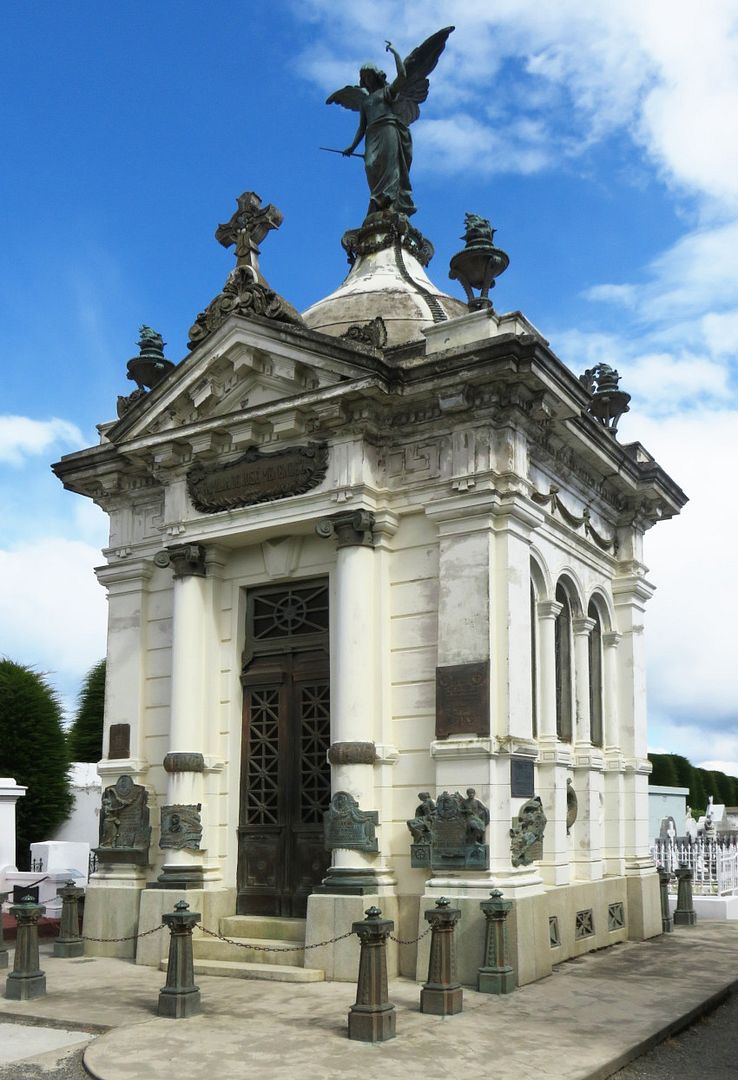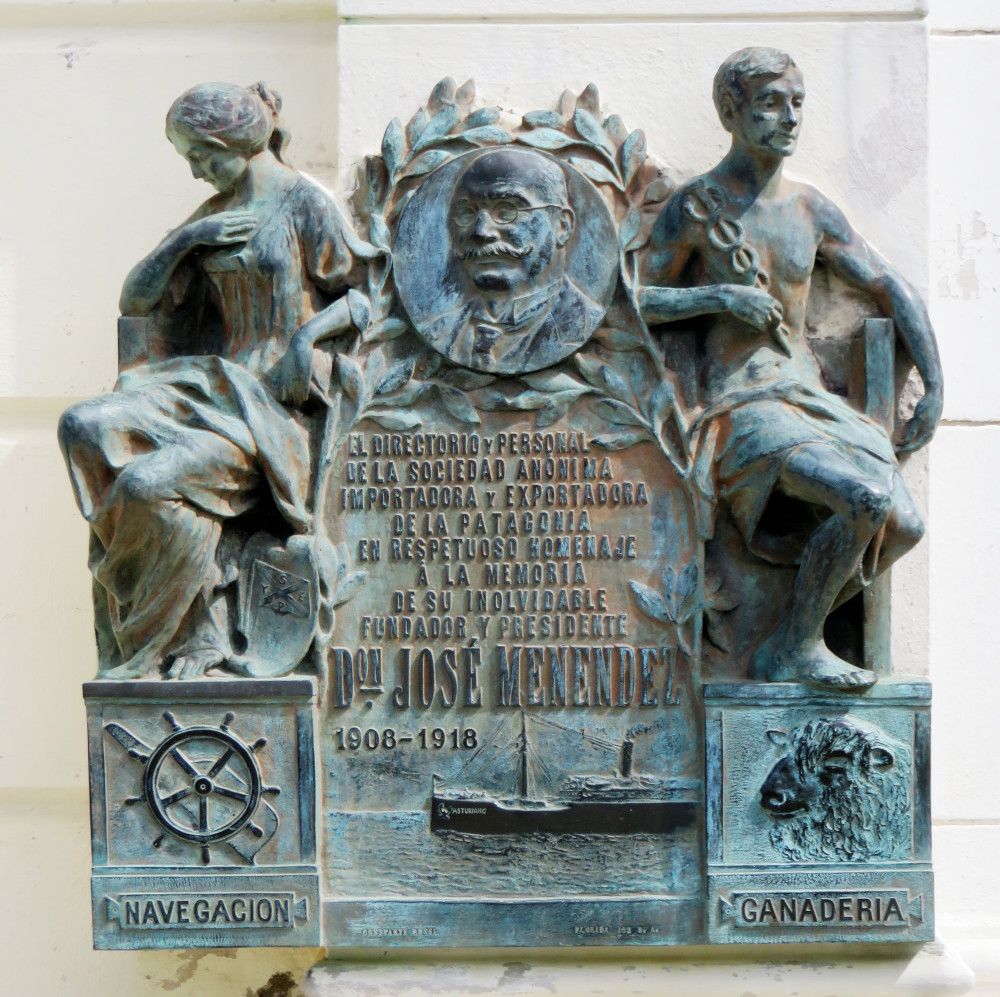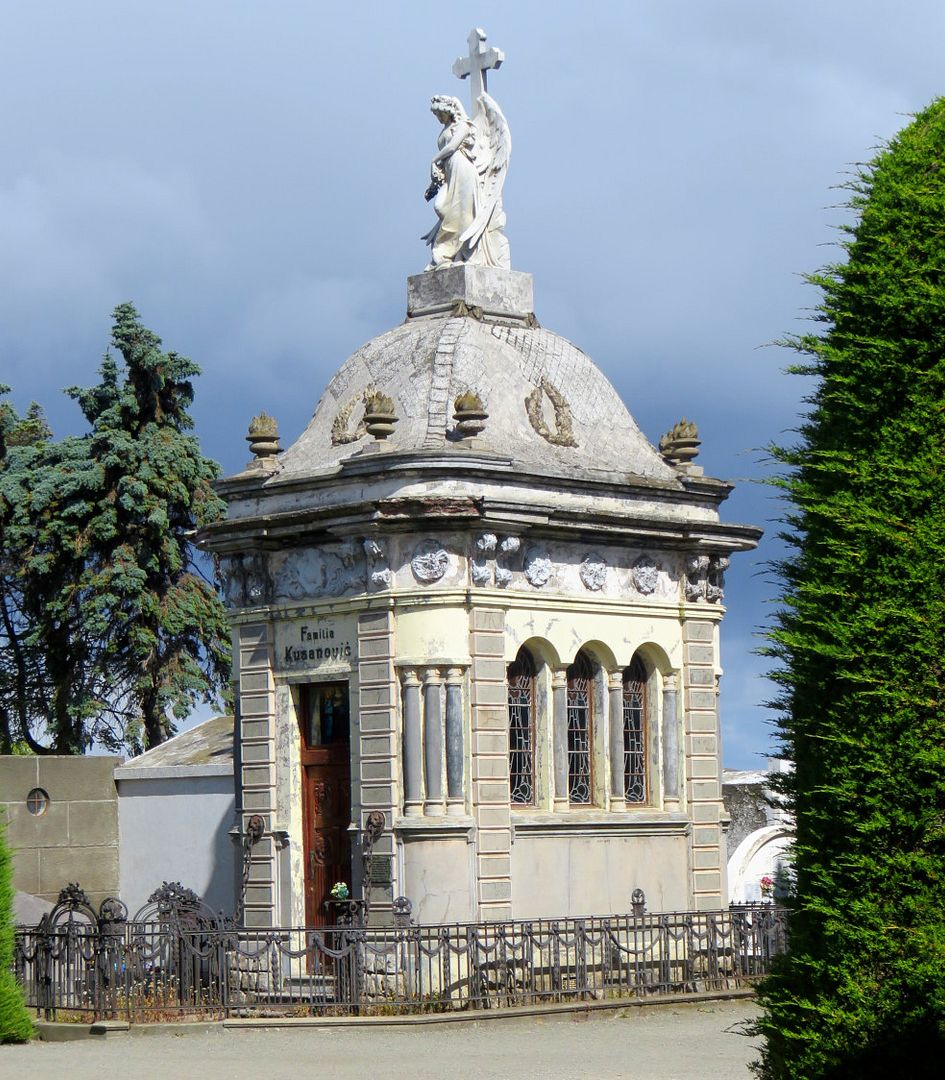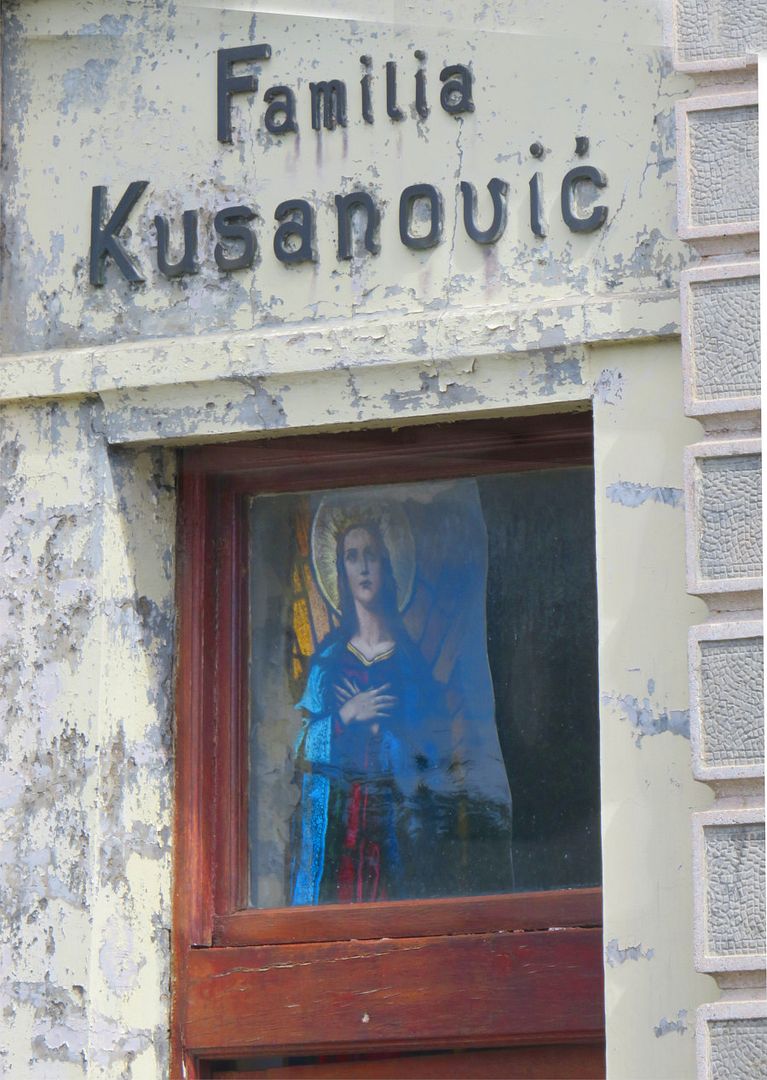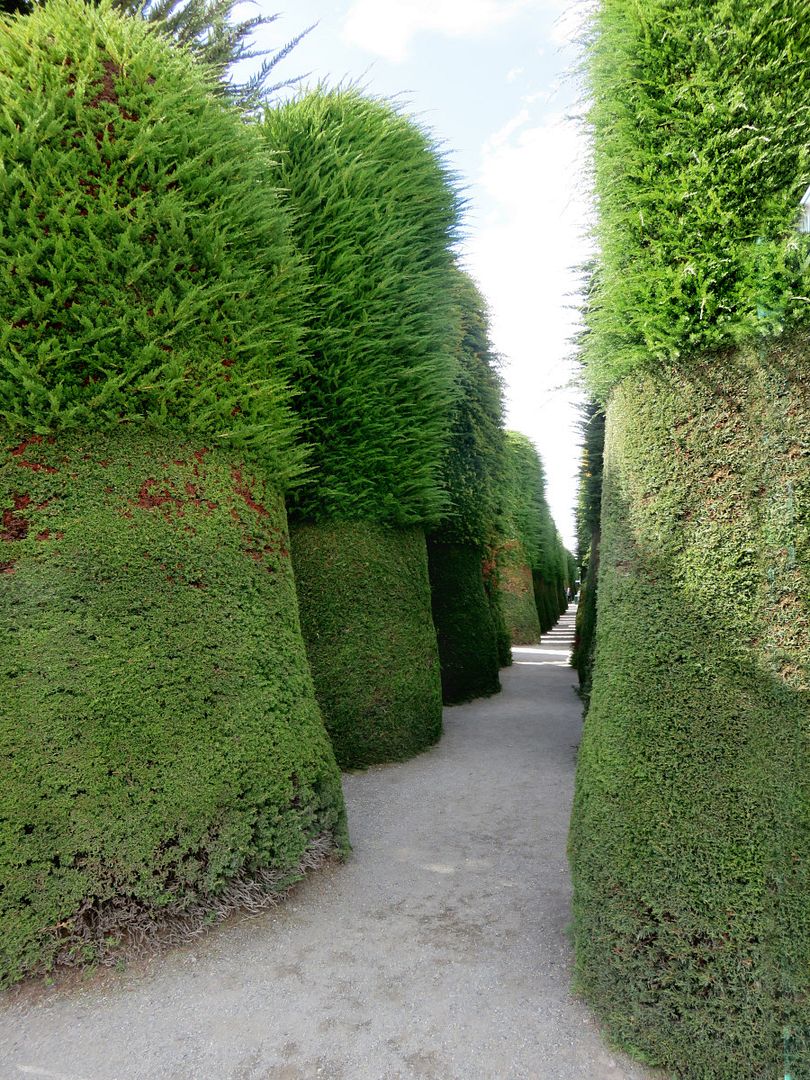 The Idiots don't need a major tourist attraction to entertain themselves... sometimes it is just the little things. Like the fact that they forgot their pinochle cards back in Arizona... playing card games aren't as popular in Patagonia as in the US, so it isn't easy to find them... and Marcelo, their guy at the hotel, didn't know where to find them so he polled his staff and after a lot of palaver it was determined that they could get cheap ones at the local "Chinese shop" but that there were better ones at Sanchez y Sanchez on the other side of town...

The Idiots were traveling without the aid of smartphone or GPS... just good old-fashioned map (mis)reading. As they are wont to do, they eventually circled in on Sanchez y Sanchez... and got to see how the local folks shop at their kind-of Costco/Walmart/Target big box store. They found their playing cards... and they got this photo of pallets of bargain-priced laundry detergent - in 13.2 pound bags! That's a whole lotta lemon freshness!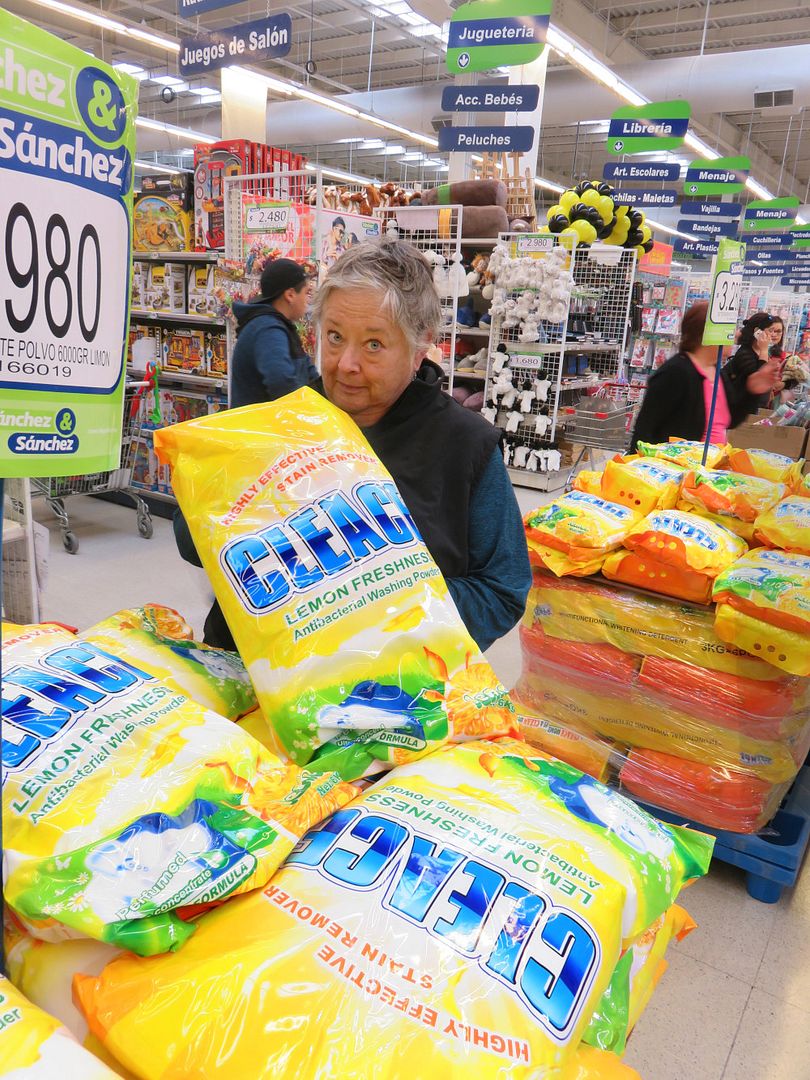 There are a lot of public memorials around PA. One popular one is El Ovejero – a sculpture of life-size figures of sheepherder and his horse and dog and nine sheep. It is very photogenic- detailed bronze figures stretching 100 feet along a boulevard park – but the streets around it are one-way and parking is complicated and the Idiots were tired of walking... and... they just enjoyed it through the car windows and got one distant photo.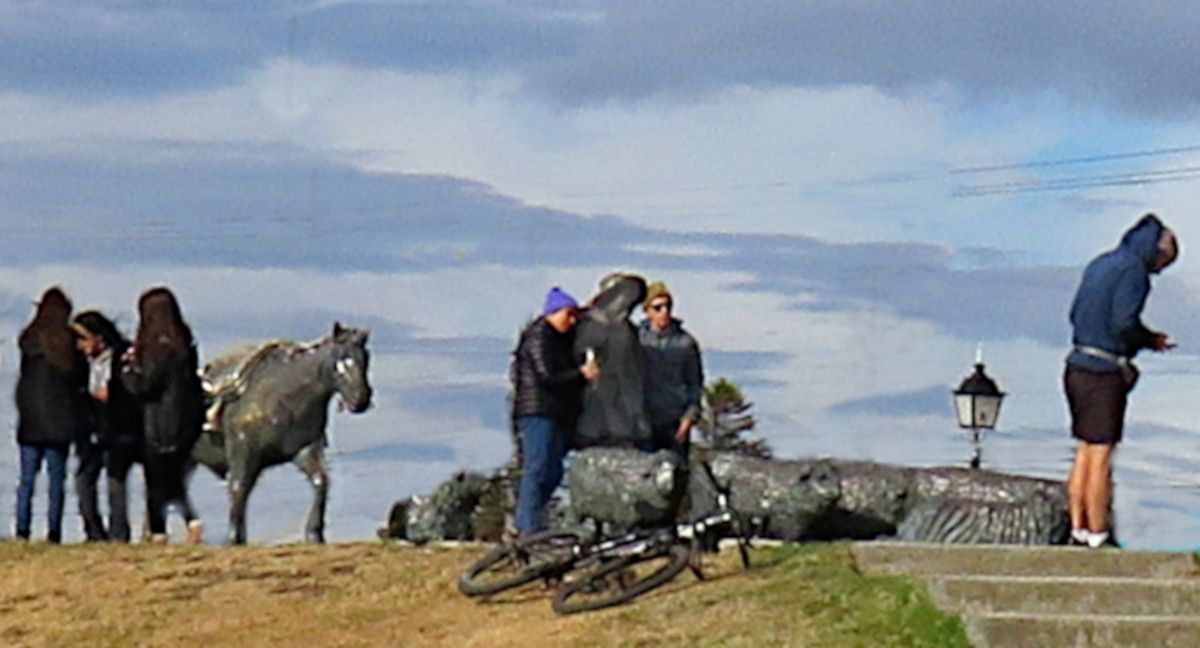 As with so many things, they learned more about the sculpture later, making them wish they'd made the effort to get closer. The story illustrates a bit of how the Idiots meander, literally and figuratively, through foreign landscapes.

As they were eating that night at Al Ganaderos there was a poem writ large on one wall. Curious as to the reason for a whole wall of a Chilean parilla restaurant to be dedicated to this short verse, they took a photo so they could seek a translation later.







There were some false starts. Google Translate doesn't do well with poetry... far too literal. And the author... another misdirection... Jose Grimaldi Piacenza is not the author of the poem. Though the father is described as "also with the soul of a poet", the author was his son, Jose Grimaldi Acotto, who wrote this as a memorial to his father. Jose Grimaldi (1911-1992) was born in Punta Arenas and is widely considered Patagonia's greatest poet. This epitaph for his father translates roughly as:

I earned the admiration of every man
I brought bounty to every landscape
Sweat beaded my brow
and the bread I ate had good flavor

In another poem, Grimaldi spoke of his Italian immigrant parents:

I was the son of a man
of those days of old:
straight and good advice,
good father for a boy.
Good but macho,
clean of soul and skin.

With my mother he appeared
in these southern lands,
bringing capitals
his courage and hope
and a reserve and trust
and love for his peers.

They came from Italy
and the two were young.
My mother, I swear to God, she
was a woman of great beauty.
But he had integrity
just like any male!

Grimaldi was a poet of the people. One biographer (forgive the clunky translation) described him as "an authentic son of this land, he is one of the first to sing in his verses to the country man, the sheepherder, the sea worker, the nutritionist, his city, his streets.

His most famous poem is El Ovejero de Me Tierra – The Shepherd of My Land

THE SHEPHERD OF MY LAND
José Grimaldi

He is not the gaucho of the pampa
nor the "cowboy" of the prairie,
neither is he the huaso, nor is he the charro,
the shepherd of my land.

He is the living symbol
of purpose and patience,
facing the wind that cuts
and the silence that squeezes him.

He is nailed to his horse,
stride to stride, league to league,
with his voice stored inside
and eyes always alert.
 
He does not wear fancy clothes
nor do he hang holsters.
He is not afraid of the rain
nor the cold winds that burn.
 
He is tenacious after his "pineapple"
- sea of wool - along the path.
And to his magical whistle
the working dog runs.
 
I have seen him many days
engaged in his task.
And I've seen him many nights
contemplate the stars.
 
Lonely and thoughtful,
always after his sheep,
He is a king without a fixed throne
the shepherd of my land!


Voice stored inside... sea of wool... king without a fixed throne – how lovely is that?!

So back to the sculpture in the park. (Bet you thought the Idiots forgot what we were talking about, didn't you?!) The sculpture is a visual representation of the poem. It was originally done in granite and its inauguration in 1944 was such a big deal that the President of Chile attended. It was replaced with the bronze version in 1962, and the human model, shepherd Abel Oyarzun, though by then an old man, was able to attend the ceremonies. His horse Santiago, who also posed for the original sculpture, had unfortunately completed his normal span and was not able to join in the festivities. The poet attended both occasions.

Lousy photograph, but a pretty good story! Here's a better photo the Idiots harvested from the internet... the sculpture is quite detailed and the photos don't really capture the sense of the omnipresent Patagonian winds. The shepherd is bent into the wind and his coat ripples behind him like a flag. Even the horse and the sheep are stolidly plodding along, heads lowered into the gale.